Performance
Examples of liquid-liquid separations that can be used to test the performance of the Zaiput separator. Note that the applications are not limited to this list.
Liquid 1
Liquid 2
Water
NaCl solution
HCl solution
Brine liquor
Light oil
Alkanes (hexane, heptane, octane)
Acetate (ethyl acetate, isopropyl acetate)
Toluene
Long-chain alcohols
Diethylene glycols (at 60 ˚C)
Methyl ethyl ketone
Benzene
Performance under pressure disturbance: Zaiput's separator is designed to handle pressure disturbances in the system so that the separation of the phases can be achieved without any manual control. To demonstrate this ability, we carried out the following experiments:

Here, we feed the separator with two immiscible liquids (water-hexane, water-ethyl acetate). The separator has a hydrophobic membrane inside. We simulated downstream operations or disturbances by setting a value of back pressure on the outlet of the organic stream. For successful complete separation, water should exit on one side, while the organic exit on the other side. That being said, there are two modes of incomplete separation: (1) Retention of organic in the aqueous phase (2) Breakthrough of water through the membrane with the organic phase The results of experiments with either water-hexane or water-ethyl acetate are shown here (where R represents % of retention and B the % of breakthrough):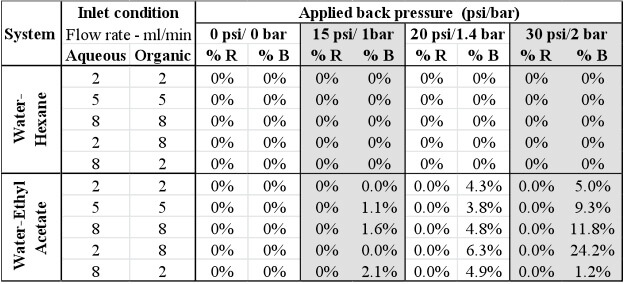 The results show that a simple separation (hexane/water, interfacial tension 50 mN/m) runs with complete separation at all of the tested total flow rates, with different ratios of flow rates, and at different levels of disturbances created in the system (with increasing back pressure on the organic side). The separator also has excellent performance when challenged with a pair of liquids with very low interfacial tension (ethyl acetate/water, interfacial tension 6.8 mN/m). Under these conditions, the separator provides complete separation at different total flow rates and with different ratios of flow rates but tolerates fewer disturbances to achieve complete separation in a single step.
Literature
Scientific research articles using our separator:
Liquid-Liquid Separation
Clément Audubert, Alexanne Bouchard, Gary Mathieu, and Hélène Lebel, Chemoselective Synthesis of Amines from Ammonium Hydroxide and Hydroxylamine in Continuous Flow, The Journal of Organic Chemistry, Oct 2018.
Kristina Søborg Pedersen, Joseph Imbrogno, Jesper Fonslet, Marcella Lusardi, Klavs F. Jensen and Fedor Zhuravlev, Liquid–liquid extraction in flow of the radioisotope titanium-45 for positron emission tomography applications, Reaction Chemistry and Engineering, Oct 2018.
Anne-Catherine Bédard, Andrea Adamo, Kosi C. Aroh, M. Grace Russell, Aaron A. Bedermann, Jeremy Torosian, Brian Yue, Klavs F. Jensen, and Timothy F. Jamison, Reconfigurable system for automated optimization of diverse chemical reactions, Science, Sep 2018.
Carlos Mendoza Noémie Emmanuel Carlos Paez Laurent Dreesen Jean-Christophe M. Monbaliu, and Benoît Heinrichs, Improving Continuous Flow Singlet Oxygen Photooxygenations with Functionalized Mesoporous Silica Nanoparticles ChemPhotoChem Aug 2018.
Eric Yu, Hari P R Mangunuru, Nakul S Telang, Caleb J Kong, Jenson Verghese, Stanley E Gilliland III, Saeed Ahmad, Raymond N Dominey, and B Frank Gupton, High-yielding continuous-flow synthesis of antimalarial drug hydroxychloroquine Beilstein J Org Chem. March 2018.
Hongwei Yang, Benjamin Martin, and Berthold Schenkel, On-Demand Generation and Consumption of Diazomethane in Multistep Continuous Flow Systems Organic Process Research & Development March 2018.
Koichiro Masuda, Tomhohiro Ichitsuka, Nagatoshi Koumura, Kazuhito Sato, Shu Kobayashi, Flow fine synthesis with heterogeneous catalysts Tetrahedron Feb 2018.
Gemoets, H. P. L. (2018). Enabling and accelerating C-H functionalization through continuous-flow chemistry Eindhoven: Technische Universiteit Eindhoven
Jatuporn Salaklang, Veronique Maes, Matthias Conradi, Rudy Damsb and Tanja Junkers, Direct synthesis of acrylate monomers in heterogeneous continuous flow processes Reaction Chemistry and Engineering Dec 2017.
Joshua Britton and Timothy F Jamison, The assembly and use of continuous flow systems for chemical synthesis Nature Protocols Oct 2017.
Dr. Martina L. Contente, Federica Dall'Oglio, Dr. Lucia Tamborini, Prof. Francesco Molinari, Prof. Francesca Paradisi, Highly Efficient Oxidation of Amines to Aldehydes with Flow-based Biocatalysis ChemCatChem Sep 2017.
Gabriel Glotz, Rene Lebl, Doris Dallinger, C. Oliver Kappe, Integration of Bromine and Cyanogen Bromide Generators for the Telescoped Continuous Synthesis of Cyclic Guanidines Angew. Chem. Int. Ed. Sep 2017.
Amanda C. Wicker, Frank A. Leibfarth and Timothy F. Jamison, Flow-IEG enables programmable thermodynamic properties in sequence-defined unimolecular macromolecules Polym. Chem. Sep 2017.
Valerio De Vitis, Federica Dall'Oglio, Andrea Pinto, Carlo De Micheli, Francesco Molinari, Paola Conti, Diego Romano, Lucia Tamborini, Chemoenzymatic Synthesis in Flow Reactors: A Rapid and Convenient Preparation of Captopril Chemistry Open July 2017.
Michael R Chapman, Maria H. Kwan, Georgina King, Katherine E Jolley, Mariam Hussain, Shahed Hussain, Ibrahim E Salama, Carlos González Nino, Lisa A Thompson, Mary E Bayana, Adam Clayton, Bao N. Nguyen, Nicholas J Turner, Nikil Kapur, and A. John Blacker, A Simple and Versatile Laboratory Scale CSTR for Multiphasic Continuous-Flow Chemistry and Long Residence Times Org. Process Res. Dev. June 2017.
Jinu Joseph John, SimonKuhn, Leen Braeken, and Tom Van Gerven, Temperature controlled interval contact design for ultrasound assisted liquid-liquid extraction Chem. Eng. Res. Des. June 2017.
Hannes P. L. Gemoets, Gabriele Laudadio, Kirsten Verstraete, Prof. Dr. Volker Hessel, and Dr. Timothy Noël, A Modular Flow Design for the meta-Selective C−H Arylation of Anilines Angew. Chem. Int. Ed. May 2017.
Nopphon Weeranoppanant, Andrea Adamo, Galym Saparbaiuly, Eleanor Rose, Christian Fleury, Berthold Schenkel, and Klavs F. Jensen, Design of Multistage Counter-Current Liquid–Liquid Extraction for Small-Scale Applications Ind. Eng. Chem. Res. Apr 2017.
Yi Shen, Nopphon Weeranoppanant, Lisi Xie, Yue Chen, Marcella R. Lusardi, Joseph Imbrogno, Moungi G. Bawendi and Klavs F. Jensen, Multistage extraction platform for highly efficient and fully continuous purification of nanoparticles Nanoscale Mar 2017.
C. Battilocchio, G. Iannucci, S. Wang, E. Godineau, A. Kolleth, A. De Mesmaeker and S. V. Ley Flow synthesis of cyclobutanones via [2 + 2] cycloaddition of keteneiminium salts and ethylene gas React. Chem. Eng. Mar 2017.
Joshua Britton and Colin L. Raston, Multi-step continuous-flow synthesis Chem. Soc. Rev. Jan 2017.
David Cantillo, Bernd Wolf, Roland Goetz, and C. Oliver Kappe, Continuous Flow Synthesis of a Key 1,4-Benzoxazinone Intermediate via a Nitration/Hydrogenation/Cyclization Sequence Org. Process Res. Dev. Dec 2016.
Hansjoerg Lehmann, A scalable and safe continuous flow procedure for in-line generation of diazomethane and its precursor MNU. Green Chemistry. Dec 2016.
Maryam Peer, Nopphon Weeranoppanant, Andrea Adamo, Yanjie Zhang, and Klavs F. Jensen, Biphasic catalytic hydrogen peroxide oxidation of alcohols in flow: Scale up and extraction Org. Process Res. Dev. Aug 2016.
Franz J. Strauss, David Cantillo, Javier Guerrac and C. Oliver Kappe, A laboratory-scale continuous flow chlorine generator for organic synthesis React. Chem. Eng. Aug 2016.
Baptiste Leforestiera and Markus Vögtle, Safe Generation and Direct Use of Chlorine Azide in Flow Chemistry: 1,2-Azidochlorination of Olefins and Access to Triazoles Synlett. June 2016.
Andrea Adamo, Rachel L. Beingessner, Mohsen Behnam, Jie Chen, Timothy F. Jamison, Klavs F. Jensen, Jean-Christophe M. Monbaliu, Allan S. Myerson, Eve M. Revalor, David R. Snead, Torsten Stelzer, Nopphon Weeranoppanant, Shin Yee Wong, Ping Zhang, On-demand continuous-flow production of pharmaceuticals in a compact, reconfigurable system Science April 2016.
L Osorio-Planes, C Rodríguez-Escrich, MA Pericas, Removing the superfluous: a supported squaramide catalyst with a minimalistic linker applied to the enantioselective flow synthesis of pyranonaphthoquinones Catalysis Science & Technology Mar 2016.
Lorenzo Di Marco, Dr. Morgan Hans, Prof. Lionel Delaude and Dr. Jean-Christophe M. Monbaliu, Continuous-Flow N-Heterocyclic Carbene Generation and Organocatalysis Chem. Eur. J. Feb 2016.
Javier Guerra, David Cantillo and C Oliver Kappe, Visible-Light Photoredox Catalysis using a Macromolecular Ruthenium Complex: Reactivity and Recovery by Size-Exclusion Nanofiltration in Continuous Flow Catal. Sci. Technol. Feb 2016.
Nicolas Lamborelle, Justine F Simon, Andre LUXEN and Jean-Christophe Monbaliu, Continuous-Flow Thermolysis for the Preparation of Vinylglycine Derivatives Org. Biomol. Chem. Nov 2015.
Irina Sagamanova, Carles Rodríguez-Escrich, István Gábor Molnár, Sonia Sayalero, Ryan Gilmour, and Miquel A. Pericàs, Translating the Enantioselective Michael Reaction to a Continuous Flow Paradigm with an Immobilized, Fluorinated Organocatalyst ACS Catal. Sept 2015.
Leibfarth FA, Johnson JA, and Jamison TF, Scalable synthesis of sequence-defined, unimolecular macromolecules by Flow-IEG Proc. Natl. Acad. Sci. Aug 2015.
Chunhui Dai, David R. Snead, Ping Zhang, and Timothy F. Jamison, Continuous-Flow Syn and Purification of Atropine with Sequential In-Line Separations of Structurally Similar Impurities J. Flow Chem. July 2015.
Steffen Glöckner, Duc N. Tran, Richard J. Ingham, Sabine Fenner, Zoe E. Wilson, Claudio Battilocchio and Steven V. Ley, The rapid synthesis of oxazolines and their heterogeneous oxidation to oxazoles under flow conditions Org. Biomol. Mol. Oct 2014.
Trevor A. Hamlin, Gillian M. L. Lazarus, Christopher B. Kelly, and Nicholas E. Leadbeater, A Continuous-Flow Approach to 3,3,3-Trifluoromethylpropenes: Bringing Together Grignard Addition, Peterson Elimination, Inline Extraction, and Solvent Switching. Org. Process Res. Dev. Aug 2014.
Andrea Adamo, Patrick L Heider, Nopphon Weeranoppanant, and Klavs F. Jensen, Membrane-Based, Liquid-Liquid Separator with Integrated Pressure Control. Ind. Eng. Chem. Res. July 2013.
Gas-Liquid Separation
Jisong Zhang, Andrew R. Teixeira, Lars Thilo Kögl, Lu Yang, and Klavs F. Jensen Hydrodynamics of gas–liquid flow in micropacked beds: Pressure drop, liquid holdup, and two-phase model AIChE Journal June 2017.
Everett J. O'Neal, Chang Ho Lee, Julian Brathwaite, and Klavs F. Jensen, Continuous Nanofiltration and Recycle of an Asymmetric Ketone Hydrogenation Catalyst ACS Catal. March 2015.
Reference to separator's theory:
Kralj, J. G.; Sahoo, H. R.; Jensen, K. F., Integrated continuous microfluidic liquid-liquid extraction. Lab Chip.2007, 7, (2), 256-263.
Reference to examples of use of liquid–liquid separators:
Sahoo, H. R.; Kralj, J. G.; Jensen, K. F., Multistep Continuous-Flow Microchemical Synthesis Involving Multiple Reactions and Separations. Angew. Chem. Int. Ed. 2007, 46, (30), 5704-5708.
Cervera-Padrell, A. E.; Morthensen, S. T.; Lewandowski, D. J.; Skovby, T.; Kiil, S.; Gernaey, K. V., Continuous Hydrolysis and Liquid–Liquid Phase Separation of an Active Pharmaceutical Ingredient Intermediate Using a Miniscale Hydrophobic Membrane Separator. Org. Process Res. Dev. 2012, 16, (5), 888-900.